Kiwicon - New Zealand's Hacker Con
Holy fucking sheepshit, Kiwicon 2k8! Yup, hold on to your hacking panties, we're at it again - Kiwicon 2k8, 27th & 28th September, 2008 in Wellington, New Zealand.
Kiwicon is a not-for-profit, non-commercial conference organised by the hacker and computer security community. As with last year, admission remains a mere NZ$50 (NZ$30 for students and beneficiaries) for both days.
12 January 2009: Happy New Year!
6 October 2008:Here's some Tokemon results for y'all. Team SA win overall best team (they claim the annual Kiwicon trophy: The Illustrated Guide to the Commoner Skin Diseases, returned from last year's Hax0r Quiz winner), the Christchurch boys (Team Graham Capill Playcentre) win on beers-per-head (taking the prize of a Winchester Disk Platter), and w0lfie wins best individual (and takes out the grand prize of an Insomnia EEEpc!)
30 September 2008: Well, shit. We had ourselves a con. :D Dont ask how many people came, or anything fancy like that, cause we're still, uh, well, to be honest, hungover. Kthx to everyone for coming. Hope you had a win time. <3, the Kiwicon Crue.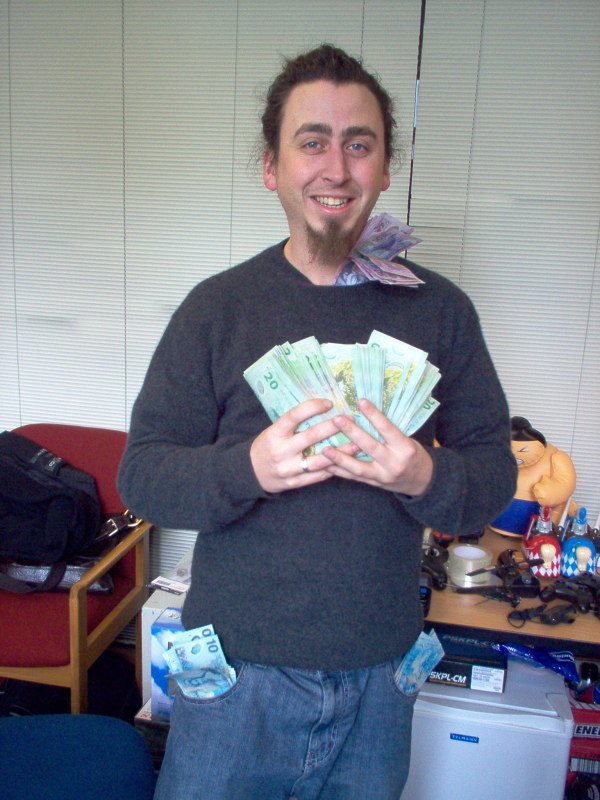 25 September 2008: The horde is on the move; a dark cloud brews over (unusually sunny) Wellington. Dusk approaches, soon to be illuminated only by the twinkling of the Southern Lights. And yes, on a practical note, we'd like to reassure you, slack hackers; there will be doorsales, probably in the 30-60 tickets range. So if you've missed out, make sure you're there at 0845 and you'll almost certainly get in.
23 September 2008: Well, it's happened. We're full. Sold out. No more room. Registration has closed, and sucks to be you if you missed out. What this means is:
* Ticket sales on Friday will be limited to registered people only.
* Ticket sales on Saturday will be limited to registered people only until 8:45am.
* Any space available at 8:45am will be opened for door sales, first come, first served.
* If you have registered, and cannot purchase your ticket before 0845 Saturday (or 0845 Sunday if you registed for only Sunday), then you need to email us to tell us not to sell your ticket.
21 September 2008: It's Kiwicon this week, chums. +39 regos since last update, now at 280. Last call.
16 September 2008: +33 regos in the last three days. If you're still dilly-dallying, bout time you got your dilly dallied and registered.
13 September 2008: Zomg, two weeks to go. Registrations are at 205, so we're starting to get worried about reaching the venue capacity. Obviously people who've registered are goign to get priority over people who just turn up on the day, so its quite possible you might miss out if you don't register. Conversely, if you've registered, and now aren't going to come, drop us an email and let us know.
6 September 2008: Three weeks today; registration count currently 176 and rising. See y'all there!
2 September 2008: For those who are not particularly hip to the whole calendar thing, please note that the Sunday of Kiwicon is the day that we transition from NZST (GMT+12) to NZDT(GMT+13) and, if you're still drinking at 0200, DO NOT PANIC. Time has not passed you by, it is actually then 0300. If you're asleep, remember to get up an hour earlier than you thought for the Kiwicon Hax0r Breakfast.
In other news, due to Metl's inability to correctly perform maths, even with the assistance of his python interpeter, hoodies are actually going to be $45, because $40 turned out to be below cost. Ewps.
1 September 2008: Whoa, Kiwicon is getting close. Progress is good here at Kiwicon HQ; sorting out printing, catering, merch and of course Tokemon. We've released a teaser screenshot to whet your whistle, but the important take home message is that if you want to help conquer the mighty Mount Bartab, you're going to need to hack stuff to get free beers. No hacking, no drinking. (Well, not quite true, but at least while Tokemon is running.)
If you've not yet booked your accomodation for Kiwicon, get cracking, because the World of Wearable Arts is on at the same time, and hotel rooms are getting hard to come by.
18 August 2008: Merchandise! Yes, we'll have Kiwicon tshirts for sale at the venue in a range of sizes and genders. If you missed out on last year's limited edition Kiwise shirt, then you'll be pleased to know that this year's design will appeal in much the same way. Tshirts are $20, cash only, first come first served.
We are also offering Kiwicon black zip-up hoodies by pre-order only - these are $40, cash at the venue. If you want one, you need to email badass.kiwicon.hoodies (guess-what-goes-here) storm.net.nz before midday 22nd August with your name, gender and size (Guys: S, M, L, XL, 2XL, Girls: XS, S, M, L, XL). We're not going to carry stock of these, so preorder now if you want one.
18 August 2008: The schedule is available on Google Calendar, so all you bearded boffins can synchronise it with your portable device of choice.
17 August 2008: CFP closed, and the final speaker selection is done. Reckon we got ourselves a pretty damn good schedule. Also, did you notice? Hacker Breakfast! Yes, that's right, to tempt you out of your gutter and back to the con bright and early sunday morning, we're laying on breakfast for y'all. And its still only $50 at the door.
14 August 2008: CFP closes this week, so last chance to submit your talk. Registrations have passed one hundred, and Kiwicon is only six weeks away. Also, remember to start packin' your tools for some

!
4 August 2008: Totally meant 3 August, GMT. Really. Anyway. Zomg, Kiwicon 2k8, first round of speakers announced! (Yes. /presentations. Been there all along, and you didn't think to look? Noobs!)
3 August 2008: First round of speakers get announced today. Real soon now. Just gotta have a cup of coffee and a pastry first...
11 July 2008: Second call CFP has gone out, with a little surprise in the form of travel funding packages for speakers. Yes, it's still only $50 at the door.
1 May 2008: Yes, ma'am, Kiwicon 2k8 is happening. The CFP is out, we're starting to organise things, and man, we're gonna have ourselves another goddamn con.
* 1 May: CFP Opens, Kiwicon 2k8 announced
* 11 July: CFP Second call, funding packages announced
* 3 August: First round of speakers announced
* 17 August: CFP closes, second round of speakers announced
* 27 September: Kiwicon tiem nao!
Remember to check kiwicon.org regularly as the con approaches for the latest updates and information.
See you at Kiwicon 2k8!
-- The Kiwicon Crüe - Bogan, Metlstorm & Sharrow